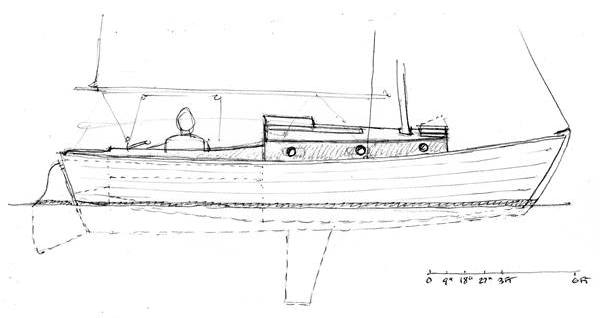 LOA: 20'6"
LWL:  18'1"
Beam: 7'3"
Draft: 1'3" / 3'6"
Weight: 1460lb trailer weight
Ballast: 360lb
Sail Area: 193 sq ft
Construction: Plywood epoxy lapstrake
Rig: Gaff sloop
Waters: Protected / semi-protected
Outboard: 2-5hp gas or electric


Note:  These are preliminary specifications and are
subject to change
Simply put, Belle 20.5 is a proposed 20'6″ centerboard cruising sailboat incorporating many of the elements of the 16ft Belle daysailer.  Like BELLE, she's a shallow centerboarder for the pleasure of gunkholing and ease of trailering.  Her epoxy-lapstrake hull should be pleasing to look at and, using epoxy glues,  quite lightweight and leakproof.  Inspired by Belle, the Belle 20.5's simple gaff sloop rig should be easy to handle and offer a good turn of speed in most conditions.  Angled varnished coamings and wide slatted seats make for a comfortable cockpit.  The seats are quite wide and over 6'6″ long, excellent for snoozing or fair-weather sleeping.  Boom tent optional.  A 2-5hp outboard (gas or electric) can be stored in the aft well or under a seat.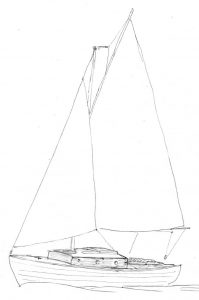 The Belle 20.5's epoxy-lapstrake hull should be stiff, fairly light, and attractive. Varnished spars, transom, seats, cabin sides, and coamings add the warm glow of wood. Down below, the varnished cabin sides and trim will make the interior inviting, if small. This is strictly a sit-down/lay-down boat–headroom is necessarily lacking–but the proportions and details should make it an inviting space to wait out summer rain. Her shallow draft can open up a wide range of protected anchoring areas off limits to deeper boats.
My own preference would be for oak, like Belle, but mahogany or teak could be an option. Varnished cabin sides to match the coamings would be quite spectacular, although painted sides could be specified to cut down on annual maintenance.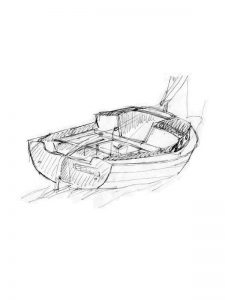 At this point, Belle 20.5 exists in sketches and various ideas in notebooks.  That said, the close relationship in hull form between this boat and Belle means the final plans would come together fairly quickly. I'm forseeing a three-boat range of Belle-inspired boats:
16ft daysailer (Belle)
The original. Pure daysailer.
18'9" daysailer/cruiser (Belle 19)
Daysailer with cuddy. Just enough room for a small V-bunk.
20'6" cruiser (Belle 20.5)
Lavish cruising accomodations for two!
We are seeking a sponsor client for the first Belle 19/20.5.  The client would not only enjoy a unique one-of-a-kind boat, but also the pleasure of bringing a new boat design to the world.   We hope you'll contact us with your interest.