In the Press
BELLE is featured in the 2020 issue of Small Boats, an annual publication from WoodenBoat Magazine.  Lovely to see BELLE among many other excellent small boats.  Many thanks again to Tom Sliter for his excellent writing and photos.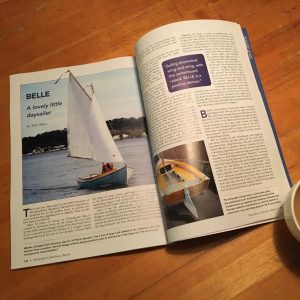 Belle Daysailer, a 16ft Daysailer — photos and article by Tom Sliter in Small Boats Monthly, February 2019
Small Boats Monthly has published a very nice piece on BELLE, and I think Tom Sliter did a terrific job capturing the character of the boat with the article and photos. So many thanks to him and to SBM for their interest in the boat.
The article includes an excellent short  YouTube video of BELLE under sail.
"I also happened by the relaunching and re-christening of BELLE, a Herreshoff 12 1/2-inspired small sailing boat designed and built by Daniel Gonneau. With her more open layout inboard and with no internal ballast, she's quite different from the design of her keelboat cousin, but no less gorgeous." — Anne Bryant, Small Boats Monthly
Calendar of Wooden Boats
In 2015, BELLE was featured in the Calendar of Wooden Boats.  It was indeed an honor to have been selected for the Calendar, and you can see Benjamin Mendlowitz's photo on the home page of this site.  Many thanks to him.
Testimonials
"She's spacious with clean, simple lines. BELLE is a nice combination of classic lines with a modern aesthetic." –Tom S., Washington DC
"I sailed BELLE at the Small Reach Regatta and found her to be an able sailing boat, both fun and relaxing to sail." — Brent A., Yarmouth Maine
"Seems like a bigger boat than her 16 feet. Sails well in light airs, and the angled coamings make for comfortable seating." — Tony H., Chichester, United Kingdom
Awards
In both 2018 and 2017, BELLE won a First Place Award at the  Mid-Atlantic Small Boats Festival  in the "traditional design, contemporary construction" category.  With over 100 boats in attendance, the Festival is one of the largest small-boat gatherings in the USA.  It is held at the Chesapeake Bay Maritime Museum in Maryland.  Congratulations to BELLE's new owner for keeping her in top condition and showing her at this Festaival.
More about BELLE…