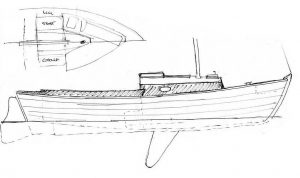 LOA: 18'9"
LWL: 16'6"
Beam: 6'10"
Draft: 1'1" / 3'3"
Weight: 1100-1200lb trailer weight
Construction: Plywood epoxy lapstrake
Rig: Gaff sloop
Waters: Protected / semi-protected
Outboard: 2-4hp gas or electric


Note:  These are preliminary specifications and are
subject to change
Here's a look at Belle 19, a small cruiser just 18'9″ long designed for those who prefer to travel light.
The Belle 19 is a a slightly enlarged version of Belle, adding a cabin over a couple of bunks forward. Space in the cabin will be at a premium, but it will allow for overnighting and getting out of the weather. No tent is required, either in the cockpit or ashore, as you might have in a true camp-cruiser.
That said, the cockpit seats are long enough and wide enough for comfortable sleeping in fair weather. In that case, the cabin functions as lockable storage.
Like Belle, a simple gaff sloop rig provides good performance and easy handling.  The short spar lengths (compared to a marconi rig) ease trailering.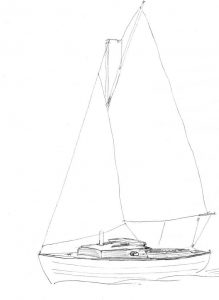 A small gas/propane/electric outboard provides plenty of power when the wind dies, but rowing is always an option.  A sweep or sculling oar would work fine on flat-calm August afternoons.
We are seeking a sponsor client for the first Belle 19. The client would not only enjoy a unique one-of-a-kind boat, but also the pleasure of bringing a new boat design to the world. We hope you'll contact us with your interest.
—Daniel Gonneau, Designer/Builder