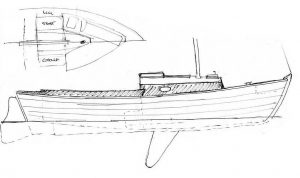 Here's a look at some early sketches for a daysailer/cruiser that's just big enough to have a small cabin for overnighting.  I call it the Belle 19, and it will be right around 18'9″ long.
The Belle 19 is a further development of my ideas for a slightly larger version of the award-winning Belle, adding a cabin for overnighting and getting out of the weather.  After crunching through a few sketches (with preliminary dimensions) I've ended up at 18'9″ as the ideal size for the concept.
These are preliminary hand sketches and will definitely change before final plans.  I hope you'll let me know what you think.   Do you prefer the 19 to the 20.5?  Is the 20.5 "too big"?  Maybe the 19 is "just right"?
Sketches can be converted to workable plans in fairly short order.  Like the 20.5, we are seeking a sponsor client for the first Belle 19. The client would not only enjoy a unique one-of-a-kind boat, but also the pleasure of bringing a new boat design to the world. We hope you'll contact us with your interest.
Update:  More information on this design can be found at our Belle 19 page.
—Daniel Gonneau, Designer/Builder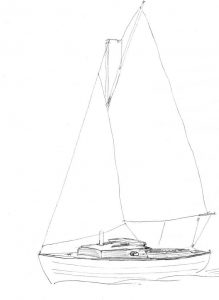 PRELIMINARY SPECIFICATIONS
LOA: 18'9"
LWL: 16'6"
Beam: 6'10"
Draft: 1'1" / 3'3"
Weight: 1100-1200lb trailer weight
Construction: Plywood epoxy lapstrake
Rig: Gaff sloop
Waters: Protected / semi-protected
Outboard: 2-4hp gas or electric


Note:  These specs are subject to change